Highway 12 (Springfield Corners, WI.)
Directions: Take Highway 18/151 (about 5 miles West of Mount Horeb). Exit on Cave of the Mounds Road. The cave is about 1/2 mile north of 18/151.
Between Middleton and Sauk City, Highway 12 cuts a path through many farm fields, and over some very "hilly" countryside.
The area in question, is a stretch of Highway 12 just a few miles north of the area known as Springfield Corners. There, two prominent hills are split in half by the highway. It is here that the activity has been witnessed.
There have been theories as to who haunts the hills outside Springfield Corners: Car accident victim(s), Native Americans, etc. I would like to submit one other possible name to that list:
On the night of November 14th, 1947 an early snowstorm was making it's way toward south-central Wisconsin.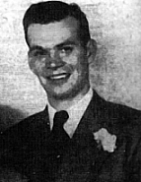 After just missing the last bus home to Baraboo, and worried they would be stuck in Madison for the duration of the snowstorm, Carl Carlson and his sister-in-law, hitched a ride from two men driving a black Plymouth. Unbenkownst to the hitchhikers, the car they were riding in was stolen, and the two "good samaratins", were actually career criminals.

One of the men decided they wanted to lay down in the back seat, forcing everyone else to cram into the front seat of the car.

As Springfield Corners began to loom in the headlights, the man in the back seat "didn't like how Carlson was looking at his partner" (as he would later explain to the authorities), pulled out his revolver and shot Carlson twice in the head, and once in the ribs, killing him instantly.